Photographs taken 2004 to 2010
Clovelly Picarooner "Winnow" built by Gaffers & Luggers, Tregatreath Yacht Yard,
(now Waterings Boatyard) of Mylor, Cornwall
(since sold and now happily sailing in the Isles of Scilly)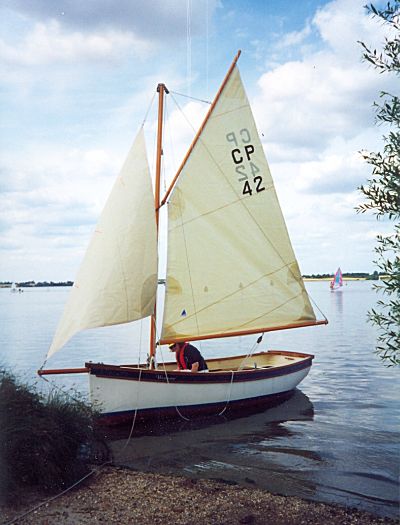 Winnow is a fine example of a Gaffers & Luggers Clovelly Picarooner, built by Martin Heard of Tregatreath Yacht Yard in Mylor, near Falmouth in Cornwall. The Picarooner is a sturdy and well-built sea-worthy 16ft gaff rig sailing dayboat, based on the old wooden fishing boats that sailed out of Clovelly to fish for the local "silver darlings" or herrings. The original mould was taken from one of these old lug-rigged sailing boats, and the rig converted to the more popular gaff rig and steel centre-plate, for the new Heard GRP version. The Clovelly Picarooner is very easily trailable.
Winnow herself was built in 1998 (sail number CP42), and has had a number of improvements since then, including a mast tabernacle for ease of lowering and raising the mast, roller furling on the jib, and a new aft decking arrangement to open the bilges for ventilation. An outboard well allows for the fitting of a 4-6HP outboard; a 4HP is quite adequate for general auxiliary use. The basic dimensions of a Clovelly Picarooner are as follows:
Length LOA 18.0ft (5.49m)
Length on Deck LOD 15ft 6" (4.73m)
Beam 6.0ft (1.83m)
Draught: Plate up 1.0ft (0.31m)
Draught: Plate down 3.0ft (0.92m)
Approx. Displacement 700lbs (317kg) + outboard etc
The Picarooner is easily sailed single handed, and can also be easily launched and recovered single handed, from the trailer that has been modified with nylon rollers and wooden keel guides. Picarooners can virtually sail themselves! However they are also an ideal boat for a couple sailing together, or for family adventures on inland lakes or on and around the coast. There is even an inflatable dinghy for a "standby get-ashore" tender away from home, or for the kids beach landing!
Improvements and Modifications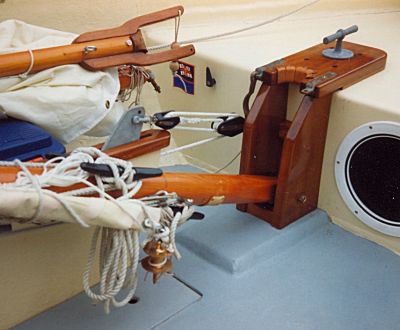 ▪ Mast tabernacle added for ease of raising and lowering.
▪ Roller furling (Wykeham-Martin No.1) on jib.
▪ New aft decking for access and ventilation to bilges.
▪ Wooden bench seat added over aft buoyancy tank, with removable cover over outboard well (used for lake sailing).
▪ Mainsail laced to mast for a tighter luff
(easily unclipped for de-rigging and trailing)
▪ Draining Deck Box for mooring lines etc added, and
water-tight Emergency box for flares etc added.
Winnow's new mast tabernacle, allowing for
much easier raising and lowering of the mast for
road trailing. Mast stores neatly inside the boat.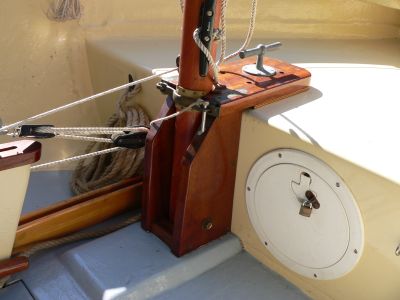 ▪ Improved hook-on reefing point added to luff on mainsail, and haul-down and hook-on reefing point added to leach.
▪ Additional mid-ships jam-cleats added for ease of tacking jib, and sailing when single-handed.
▪ Additional jam-cleat added to thwart for use with gaff peak halyard - used when manoeuvering under sail.
▪ Outboard flush modified for easy hose attachment.


Mast raised and secured in the tabernacle

Winnow sailing in Fowey harbour

Bow arrangement in Winnow
See Winnow sailing on Gaff Rig Sailing a Clovelly Picarooner in Fowey.