Photographs taken 2011 to 2017
Cornwall is famous, indeed very famous - and quite rightly - for its Pasties. There is nothing like a Proper Pasty.
However, there is another dish that deserves credit. The Fish Pie. Now I cannot claim that the only good fish pies are Cornish, but you can certainly get a Proper Good Fish Pie put in front of you here in Cornwall! Of course, a bit like pasties, there are the good, the bad, and the ugly. I have presented here some examples of particularly good fish pies that I have come across, with credit given when due. As I may from time to time discover, new Top Pie examples will be added! Indeed, further research feels rather overdue...
The King of Cornish Fish Pies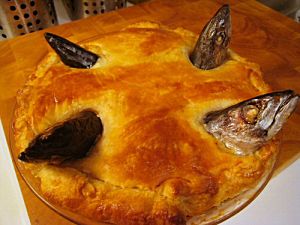 But before setting out on such an odyssey, there is one Cornish Fish Pie, that is perhaps the King of All Fish Pies, that cannot be neglected of mention! And that is the great Stargazy Pie (or Starry Gazey Pie) that hails from Mousehole.
To give you a heads up on this, the Stargazy Pie is, shall I say, a completely different kettle of fish. It is all connected with the tail (sorry, tale!) of Tom Bawcock's Eve in Moushole on the 23rd December. Tom Bawcock was a fisherman of the 16th Century who braved the seas to bring back fish one stormy winter. This is celebrated in Mousehole every year with a baked pie of potatoes, egg, and milk and fish, with the heads of the fish (usually sardines, herring or mackerel) protruding through the pastry lid (see Transceltic). Some variants, from tradition, have seven types of fish in the pie, and the whole feast and celebration has been made famous by the children's book "The Mousehole Cat" by Antonia Barber. The pie also made an appearance in the original series of Poldark. I have not as yet tasted this eyeful of a pie myself...
For further information you can check out Stargazy Pie on Wikipedia (image courtesy of Krista/Wikipedia Commons).
But back to more traditional fish pies, I have also presented below how to produce a rather acceptably good home-baked fish pie. I may be biased of course, but it does taste good, and family and friends appear to love it! So it can't be too bad.
TOP FISH PIES
(...but only the best ones found so far!)
Here are some of the best fish pies that I have tasted from around Cornwall. They are certainly not the only Top Fish Pies to be had, but they were good, and I do look forward to discovering the others!

This is (or was) my favourite... this Top Fish Pie hails from the Kings Arms in Marazion, and was one of
the very best (it's only sadly a "was" because I believe the chef changed, and presentation is now a
little different, but it is still a Top Fish Pie!). Lovely chunky flavoursome fish, big prawns, not too dry or sloppy,
and a fantastic green leaf, parmesan, rich sun-dried tomatoes & potato salad on the side! Completely Wicked!

A great Top Fish Pie from the Molesworth Arms in Wadebridge (it's called a "Padstow Fish Pie"!)
This was a very splendid fish pie with a delicious sauce that slowly thickened as it cooled, with some nice
chunky fish pieces in it, with a good number of big prawns (then yet another one!) in it, AND scallops!
Tasty peas - all that was needed on the side.

A Top Fish Pie from the Polgooth Inn (in Polgooth!)
Good Pie. Thoroughly filling (appetite-wise!), nice deep dish, good bits of fish, and a well dressed and
thought-about salad on the side. Tasty presumably home-baked rolls too!

Another great Top Fish Pie from the Ship Inn in Fowey (a favourite pub!)
The fish pie is always good here, and comes with a nicely presented and tasty dish of fresh vegetables.
Can't beat it, sitting by the open fire with a pint of Tribute on a cold wet day, and Fish Pie!

And just to show the Ship Inn at Fowey just keeps on delivering, another great one three years later!
Other Quite Splendid Fish Pies...

You will find a great Fish Pie at the Crow's Nest Inn (with a few oddities of vegetables on the side!)
Definitely a good fish pie, but just a little let down by the vegetable garnish! Some toppings are also better
than others, and this was a good'n! Fish Pie recommended.

Another great Fish Pie can be found at the Pier House Hotel in Charlestown - an excellent location!
Lovely soft mash topping, lots of fish - white fish, smoked mackerel, prawns, and a tasty sauce that is
just the right consistency, served in a good size bowl. Just the ticket!
The "Not-Quite-Up-To-It" Fish Pies...
These are however Fish Pies that edge towards the bad and the ugly side. Not awful perhaps, but just functional or average. I have not named them as I do not wish to offend. They come in many forms, but the common mistake is using a too flat, and shallow dish. There was however one Fish Pie that I had, that could still be classed as awful... though again I shall not name it, and I don't even have a photograph of it. It was from a previously excellent foodie pub that had changed its owners and chef. It was sadly rather more like a liquidised fish soup. Ugh, not good. You win some you lose some.
The only tip I can give on trying out a new pub or restaurant, is to either try to get a glimpse of another customer who has ordered the Fish Pie, or just accept it as a great new adventure, and just try it! Here is what I call an "average" fish pie...

The "average" Fish Pie. Can be tasty, but in a shallow dish, with a basic salad on the side. Just not a great one.
...and for the sake of variety, here is something a little different. Not a fully-fledged pie perhaps, just a pretend one:

This is the "Deconstructed" Fish Pie variant. Not my favourite, and a bit artistic, but some may love it!
And a Nice Alternative...
Now this was good! Not a fish pie exactly, but a fine alternative if it is on offer - the excellently produced Fish Chowder!

A particularly fine example of a simple but very tasty Fish Chowder from the Godolphin Arms in Marazion.
The Home-baked Fish Pie ~ just one way of doing it Proper!
I prefer a family-size fish pie myself, for when guests come, so do not tend to make the individual-size pies. To make the smaller ones, you just, well, use smaller dishes, and divide up the ingredients per dish! Don't use shallow dishes. And make sure of course that they are ovenproof. We have a range at home, so for us, Proper Fish Pie gets baked the Proper way!But of course if you are using a standard oven, to get the browned topping, just put the baked fish pie (or pies) under the grill for a jiffy or so before serving. The beauty of the range is that it does both at once.
Now there is some debate as to what goes into a good fish pie. I have always been brought up with chopped hard-boiled eggs in fish pie, and have usually put a few peas in. My Mum always put eggs in. The great Jamie Oliver puts eggs in. Stargazy Pie has eggs in. I put eggs in. But you can just as easily not put eggs in. Jamie Oliver puts chopped carrots in. I don't. Most fish pies that I have had in Cornwall don't put eggs in, peas in or carrots in! It is your choice.
Whatever you do, put the fish in first, and despite what is says in some recipes, don't bother cooking it first. It is far too much hassle, makes the kitchen smell, and the fish has plenty long enough to cook and stay firm when the pie cooks.
So here is a simple ten-point guide...
1. Chop the raw fish into good size chunks. Use both white fish and smoked fish. Cod and haddock are great, but use whatever you have available. Pollack is also good. Don't bother with the ready made-up bags of mixed fish. Just buy chunks of the fish you fancy using. Frozen fish works well; fresh fish when by the sea is obviously the best!
2. Add some frozen prawns (to be honest, I've never used fresh prawns in a fish pie) and maybe some pieces of sliced salmon or whatever else you have available. Scallops? Mussels are not always everybody's friend, so check first.
3. (optional) Add some chopped hard-boiled eggs and a few peas.
4. Add some ground black pepper (I'm never shy with it), some chopped fresh parsley (I hate to admit, but in the photo below, I had to use dried parsley; fresh is much tastier! I'm not shy with that either), and some lemon juice.
5. Cook some potatoes to mash for the topping. Add a little nutmeg when you mash them. Do not use too much butter and milk - just enough to get a good mash but not too soft or too dry.
6. While the potatoes are cooking, get the sauce ready. This is a basic white (bechamel) sauce. I prepare it the easy way - no need to fuss with the carefully prepared butter and flour roux, with milk slowly added. Simply put 2oz plain flour, 2oz butter, and just under 1 pint of milk in a saucepan. Add a good teaspoon of mustard powder for extra seasoning and a little zing. Vary quantities of all ingredients for more or less sauce.
7. Heat this over medium heat, whisking to mix thoroughly all the time. Works a treat. Do not boil, just bring to simmering, first few glops. Add a handful of grated cheese and stir well. Take off the heat.
8. When the sauce is ready, pour evenly over the fish dish. Add the mash topping. Use a rubber spatula, and add all the way round the edge, then fill in the middle. Fork pattern over the whole to ensure all is sealed in. Do not leave air holes - the sauce will bubble out! Top with grated cheese (and optional breadcrumbs if desired. I didn't this time).
9. Bake in the oven at around 190°C for 33 minutes (I've always done it for that long!). Position near the top if using a range. Otherwise, you may need to brown under the grill afterwards if desired.
10. Leave to stand for five minutes (allows the sauce to thicken slightly after cooking), and serve. Yum.

With the main ingredients in the dish...

...pour the prepared white sauce over, and apply the potato and cheese topping.

Bake in the range around 190°C for just 33 minutes (I'm strangely particular about that!) to brown the top
...et voila! PROPER FISH PIE!
It has to be said that one person's fish pie may not be another's, and each person's preference may be different. When you buy a fish pie in a pub, they will invariably be individual pies. At home, I make family size ones. There is no reason you shouldn't use the above technique to make individual ones, other than you get more dishes to wash up. Artistically, the finished result may look prettier as individuals, but I still make big ones. They may not look very Gordon Blue when you open them up to serve, but they taste proper good! The choice is yours. Here's another one opened up...

Yum! To vary the thickness and quantity of sauce, just put a bit less or more in.
(but bear in mind, there's nothing worse than a dry fish pie!)